Do it for the 'gram! In a world that offers countless means of social media participation Instagram has been my favorite. No games, just media. While doin' it for the 'gram is typically reserved for twerking aficionados, we were unfortunately (fortunately?) unable to provide followers with a Tyler Clayton twerk video. We could, however, hook you up with an in-depth virtual tour of his crowd-pleasing drift PS13 via IG @koruworkss13.
Start Tour: https://www.instagram.com/koruworkss13/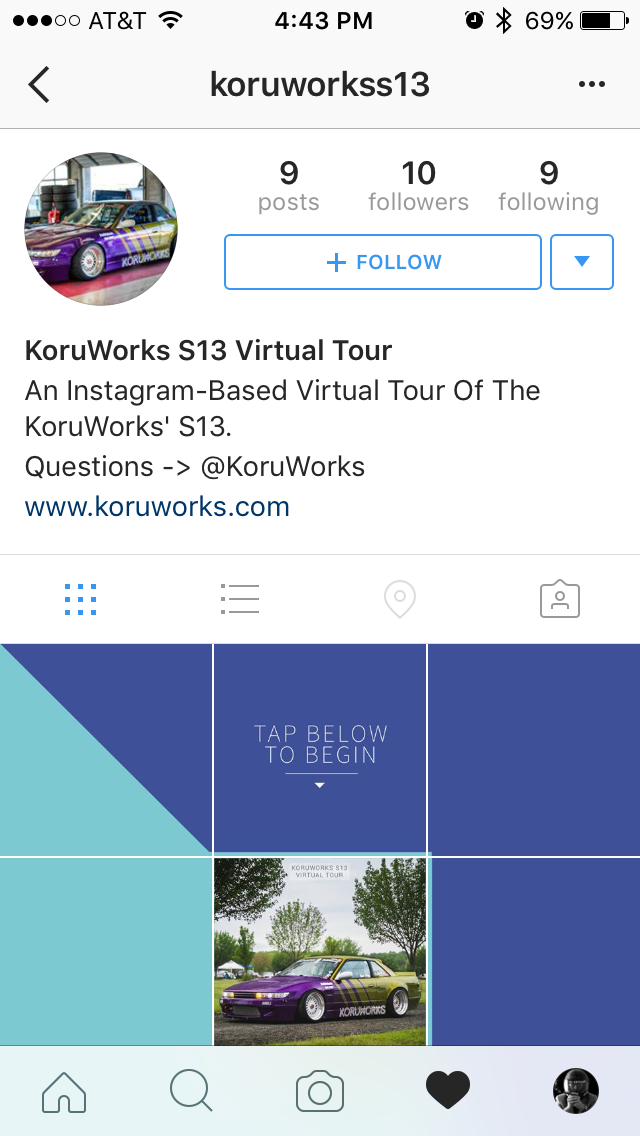 It only takes a moment to figure out this nifty little tour. Once you've found yourself at the start page simply follow the directions to navigate the tour – the next pages are tagged in the photos.
Tyler's drift car has always been pleasing to the eye. Beginning the tour you can check out the TRA Kyoto Rocket Bunny aero and signature livery on the Silvia-faced coupe.
The next section gives an inside look at Clayton's SR20DET setup. Although GM V8s and Toyota sixes have become the power plants of choice amongst S-chassis drifters, this car still gets the Yokohamas smoking with a tried-and-true Nissan mill. Refreshing! Check out the FP 20G turbocharged SR and all the little engine-bay details that make Tyler's car so interesting and capable.
The tour then takes us into the nitty-gritty details. Get an up-close look at the Powered By Max angle modifications, Wilwood brakes, and Fortune Auto 510s. Quit combing through forums for the specifications of the BBS RS. A quick jog through this virtual tour will reveal that Tyler's gorgeous classic wheels are found in 17x9.5" -13 up front and 17x11 -10 out back.
We even get an under-chassis view on this tour. #IGAfterDark? Check out the PBM suspension and custom ASD exhaust.
Climb into the cockpit and examine the rollcage, Sparco seat/wheel, and Racepak dash. Don't forget to look up! Tyler's PS13 is covered in unique vinyl from the ceiling to the gas door.
Magazine and even online features are limited by formatting and photograph selection can often leave the most curious minds disappointed. Dive into the Instagram Virtual Tour. Get up close and personal one of the Southeast's most recognizable drift sleds. We did it for the 'gram.